July 6, 2009, 7:18 PM
Is it worth it to buy a Tablet PC for use as a graphic tablet in 2009 ?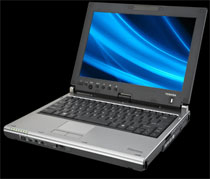 Well, I haven't updated this website for a huge amount of time, first because of my work and then more recently because I was busy backpacking in Australia.
A lot of people showing their interest on the outdated ticket I wrote about the advantages of Tablet PCs over graphic tablets, for drawing and graphic design, I decided to write an updated ticket covering 2009's options. Unfortunately they are not very good, the choices have become more limited. Where you used to have different screen sizes you now only find 13.3 inches or less, with a standard resolution limited to 1,280×800. It is the same resolution as the Cintiq 12wx, Wacom's solution for drawing directly on a screen, but that's a very low resolution for complex graphic design software, which have a huge amount of drop-down menus and for which the number of available pixels is precious… Of course you can plug in a second screen, but the stylus only works on the laptop's screen, therefore if you put your tool menus on the second screen you need to keep on switching between mouse / touch pad and stylus. And this is a very low amount of pixels when you know that the nowadays old and outdated Tablet PC, the Toshiba M200, had a 1,400×1,050 12 inch screen.

In terms of power things are not much better either : if you want a quality Tablet PC, the only option available solution is an integrated Intel graphics chip, for the graphics acceleration. No dedicated graphics card available, or rather the brands which have the option don't have a very interesting offering (more on that later). OK, an Intel graphics chip is not a total disaster. The GMA x3100 or GMA 4500HD are more powerful than low range and not recent graphics cards such as the ATI x1200, and they way more powerful than the completely outdated geforce go 5200 which is in the m200, and even if shared memory is not as fast as dedicated memory, the advantage is the quantity of memory which can be made available (384 megabytes on a x3100 if you have 4gb memory in your laptop), and that amount is important for video playback or 2d graphic design, even more if you are using Windows Vista or 7 with Aero activated. But considering the price of a Tablet PC you would expect better : nowadays normal 13 inches laptops can be found from good and famous brands with dual core processors, card readers, same screen resolution, dvd writer, Intel graphics chip, Firewire port, genuine Windows, etc. for less than 600 euros ! Unfortunately Toshiba's attempt on launching a Tablet PC dedicated to graphic design (The Tecra M7, which was equipped with a professional graphics card, an Nvidia Quadro) must have been a commercial failure as they don't have anything close to that offering anymore…
And the Dell Lattitude XT ? Or the HP Touchsmart TX2-…. ? Both have dedicated graphics cards… I'll be clear for the Dell : three good reasons to avoid it.
1 ) its graphics card is an ATI x1250, not much more powerful than an integrated Intel chip. And it seems you cannot buy that computer anymore anyway, even though you find a page with its specifications on Dell's website. The one you can still buy, through a link on that page, seems to be the XT2, with Intel graphics only. It would be a good thing for Dell to update their website…
2 ) The price : 1450€ without VAT. With only 1 gygabite memory, 80 gygabites harddrive, no DVD-writer, no wifi nor bluetooth, and a four-cell battery… The prices go much higher when you want more of each. They seem to believe their Tablet PC is the cheapest on the market…
3 ) The stylus' technology : the infamous N-trig and not Wacom. Why do I say infamous? Because this kind of stylus doesn't take into account pressure levels in most software, because of driver issues. Amongst incompatible software you find the whole Adobe suite, even in their most recent version (CS4). Maybe one day they will be taken into account, but I don't think so, as there hasn't been any evolution in a whole year. And it's not a question of O/S (the same issue applies in Windows 7). To pay such a price without proper drivers, thanks but no, thanks.
Now for the HP Touchsmart TX2-…., it's a different story. It seems to have the best value for money of them all, but… 900 euros is a good price. Its graphics card is more recent and much more powerful than the Intel chip, unlike the more expensive other Tablet PCs (the graphics card only has 64 megabytes dedicated memory, but it seems it can also use up to 1,470 MB shared memory), the processor is a dual-core one, not an Intel, but if you get a better price for an equivalent speed, it's worth it. Why don't I think it's a good option, then?
1 ) Be careful with the false impression created by pictures, you need to see it physically, and fiddle with it. I'm not a big fan of HP design, but their computers have a style, whether you like it or not. The problem is that it doesn't seem very well made, doesn't seem to be made out of high quality materials. And when you try out the touch pad, that first impression is confirmed… I never tried a touch pad which felt so bad, and it's not even smooth. It doesn't feel comfortable at all. It's not such a big deal, as you can interact with the screen directly. Unfortunately, that's not my only reproach. The screen misses contrast, and even though the M200's screen doesn't have as much contrast as today's average offering, I'm pretty sure it's still way better than that of HP's tablet PC.
2 ) Same problem as Dell's offering even though the brochure is misleading and indicates a Wacom stylus : the magnetic technology in the screen is made by N-Trig, therefore you have pressure levels… just not for Adobe products (and many others).
In short if you can't spend too much money on a computer, and pressure levels are not that important for you, or you are ready to try alternatives to Adobe such as the excellent Artrage, in order for your pressure levels to be taken into account, this Tablet PC is a good choice because it is powerful and not overly expensive.
Well then, which Tablet PC offering is nowadays good enough to replace a graphics tablet, with the huge advantage of being able of drawing directly on the screen? Taking advantage of pressure levels, in all of the graphic design software which takes them into account?
To my knowledge there is only the choice between three brands : Toshiba, Fujitsu Siemens and Lenovo. These three brands have Penabled Tablet PCs, Tablet PCs making use of Wacom technology, even though the information is hard to find.
The x200 TABLET is the latest of this kind by Lenovo. Lenovo (which used to be IBM) makes solid and quality Tablet PCs, but don't expect something beautiful. They're effective, well made, good quality, but their look is very basic. The price isn't, they are around 1,400 euros, if you search well (I find that extremely expensive compared to normal laptops with the same technical specifications, 800 euros more just for Wacom technology…). Tablet PC specifications are standard for this kind of product : 12 inch screen, integrated x4500, Intel dual core, 2 gb memory (upgradable up to 4gb), wifi, bluetooth, hard drive protection, 3g, webcam, no touch pad nor DVD writer. Some models are multi touch.
With the Fujitsu Siemens offering, be careful, if like me you are attracted by the price and design of the T1010, walk past it, this Tablet PC has a simple touch screen… The T5010 on the other hand has Wacom technology. It is as expensive as the Lenovo at its normal price (around 1,800 euros, and unlike the Lenovo I didn't find websites where you could find it for a lower price), it is technically very similar to it, but with a 13,3 inches screen (Intel dual core processor, X4500, wifi, bluetooth, 2gb of ram upgradable to 8, 3g, webcam…) In my opinion it is better, but not worth the price difference, because of its looks, its touch pad and its DVD writer.
Last but not least, the Toshiba M750 is neither more beautiful nor uglier than the Fujitsu-Siemens, it has a 12 inch screen just like the Lenovo, and is other than that about the same as the Fujitsu-Siemens, with a touch pad and a DVD writer. Some versions are muti touch. It has the best value for money of the three, 1,600 euros (More expensive than the Lenovo, but with a DVD writer and a touch pad, sold with 3gb of ram and not 2, faster hard drive…)
As a conclusion, is it still worth it to buy a (brand new) Tablet PC for graphic design? I would say yes as long as you buy a Tablet PC with Wacom technology, considering the fact that the Cintiq 12wx, which has the same resolution as nowadays' Tablet PCs, costs 1,000 euros by itself. For 400 euros more you have a complete computer and the same technology. These computers do have less pressure levels, but in my opinion they are absolutely sufficient. Its real advantage is that it's not linked to a particular computer, you don't have to change it when the computer is outdated. But on the other hand the advantage of a Tablet PC, is that it's an all-in-one solution which enables you to do graphic design while traveling, in the train for example, along with the normal advantages of a laptop if you have planned to buy one anyway. It therefore all depends on the use you have for it.
If one day the N-trig drivers work with Adobe products, HP's Touchsmart TX2 could make the Tablet PCs much more attractive, given its price and its overall speed. But right now it's not the case, and if it were possible I would use my M200 screen on an up to date computer… As nothing as good has been made since then regarding that part of the hardware.
Cette entrée a été publiée dans Hardware.
Vous pouvez la mettre en favoris avec ce permalien. |