Catégorie :
Web technology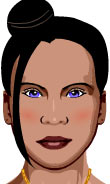 OK, it's not really linked to graphic design but the geek side of me made me write about this. Especially as the website I link to uses the Sitepal technology I've already spoken about in order to look more realistic. A new phenomenon is in birth, chatterbots. What are they? Programs behaving like human beings who would be using instant messaging, like MSN. And it's spreading up very quickly, as there is programming language created especially for creating them. You write a sentence, and it answers to it, respecting a certain logic. Up to some extent they are able to analyze your previous sentences, to seem the most human possible. Of course it's still programming, not real intelligence. They often pack a load of nonsense. And it's not really useful at this stage, more of a curiosity. This technology becomes especially impressive used in conjunction with Sitepal, it makes an avatar speak.
Of course it hasn't been invented just to satisfy curiosity, this kind of system can be used for interactive help systems, able to open a webpage based on the question you asked, to do some search in Google (or other search engines) to look for information…
Chatterbot ALICE's website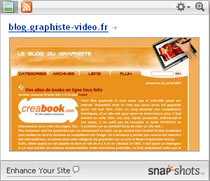 You can find it more and more over the internet, this system enables seeing a snapshot of a website before going there. Very useful to avoid certain kinds of websites, just a quick look at the preview shows if it's a site worthy of trust or not. It's nothing exceptional, we've already seen preview thumbnails before. Yes but these only show up when you put your mouse pointer over a link you are interested in, in the shape of a bubble.
This system has the big advantage of being free and very easy to install. But for having tested it and given up on it on this blog, it is efficient on simple website, such as a classical kind of blog. This website not being one because of the menu I designed for navigation, made out of DHTML, there is a conflict between both systems in Internet Explorer, creating a blinking effect which is most annoying.
Snap shots' homepage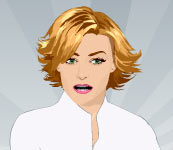 An original concept : speaking animations. Up till then nothing extraordinary, until you know the mouth's movements are synchronized to an audio recording or, and that's even more interesting, to a text you type yourself. What's the use, you as me? Well in real life you can use this for reading out loud web articles, especially useful for near blind people (or lazy people), and fun for tech savvies. The website selling that kind of service is called Sitepal. They are not the only ones to offer this kind of technology, I'm essentially thinking about the screen reader you can find on the Agoravox website. But that's less interesting for me, first because there is no animated character, and this is a website about graphic design, and also because it therefore feels less personal.
That technology is especially impressive in English. In French the voice sounds very synthetic…
The Sitepal website
The ReadSpeaker website