July 24, 2007, 7:06 PM
Adobe Creative Suite 3 : a progress, or not ?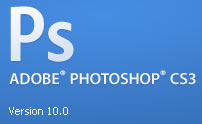 Not long ago, yet another version of Adobe Creative Suite was released. Photoshop CS3, Flash CS3, Dreamweaver CS3, Imageready… Oh, wait, no, where is Imageready? It makes me wonder, if each software has sometimes had hard to find innovation, understandable considering their complexity, each version brings its share of important changes, for example in Photoshop CS2 the way to interact with layers was a step ahead ergonomically speaking, enabling you to chose many of them in one gesture, with shift or Ctrl ( Command for Mac users ) instead of checking a box left of each layer. Flash 8 offers extraordinary possibilities directly coming from After Effects ( blur, layer blending ). But besides from a finally efficient Photoshop layers importation in Flash (It's developed by Adobe after all) and a new script language ( the apparition of Actionscript 3, Actionscript 2 won't have lived long, compared to the very first one. And it's step ahead for developers who want something completely logical. Not for graphic designers for whom it's even more complicated than before, making them have to work in team with developers when they could do everything themselves before ) it looks exactly the same as before. And in Photoshop, I don't really see what's new.

You have these tools on the top right, with a Vista style transparency effect, which are nothing more than the traditional tools ( layers, history, etc. ) minimized behind icons ( I wouldn't say that's a revolution : it takes less space, but if you have a high screen resolution or a double screen, one or the other being a must have for a graphic designer, you have plenty of space and there's no point ). Adobe website says all the former functionality of Imageready is now in Photoshop, and one software with everything is better than two. But it's actually not true, as a lot of these functions were already there (export for web, cutter tool) and some disappeared (you can make animated gifs in Photoshop, but you cannot modify an existing one, you now need the PSD it was created with. If you open an animated gif it will only open its first image. You can export for web, but that makes you have to open a popup menu through shift-ctrl-alt-s, where in Imageready thre was an optimizations dedicated menu available all of the time). I didn't think Imageready was great software. But it was good for web optimization, it was good for what it was meant for (not graphic design as that was Photoshop's branch). Adobe's solution for missing functions? Use Fireworks… Yes but it's not the same software at all, it's not practical when you're used to an altogether different kind of ergonomics. It doesn't really enable doing the same things. I personally find it even worst than Imageready was. And depending on which suite you were planning on buying it might mean having to spend even more money (Imageready was included with every suite). It's as if you would ameliorate Flash greatly, making it usable for printing as well, and then say Illustrator is no long necessary…
Real innovation? Or just marketing?
Cette entrée a été publiée dans Software.
Vous pouvez la mettre en favoris avec ce permalien. |